Multi-award-winning sexual wellness brand, LOVE NOT WAR, have announced a groundbreaking advancement in pleasure technology – NeoSilicone™ – a revolutionary silicone compound designed to be used in sex toys that is compatible with silicone lubricants.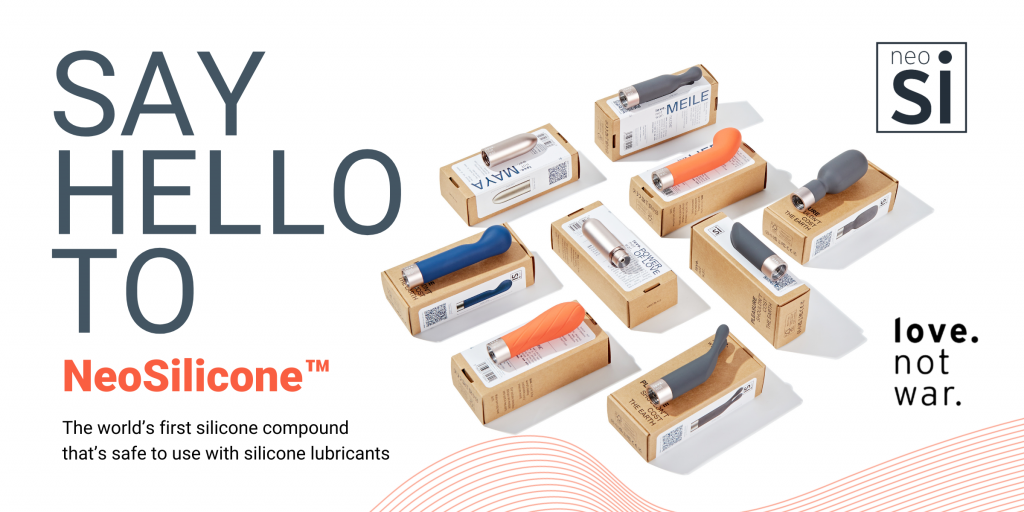 Described as a 'game-changer', NeoSilicone™ is the first-ever material that ensures complete compatibility with silicone-based lubricants. LOVE NOT WAR sex toys, made with NeoSilicone™, can now be used with silicone lubricants (a world-first) offering new and improved ways to explore pleasure.
NeoSilicone™, which took over two years of research and development, has been adapted from existing materials used in the aerospace industry.
LOVE NOT WAR has already transitioned its entire toy range to be crafted using NeoSilicone™. This decision not only enhances user comfort and satisfaction but also showcases the brand's dedication to pushing boundaries and prioritising consumer well-being.
All the new NeoSilicone™ products have been subjected to rigorous testing and certification to ensure they surpass industry standards for safety and quality.
LOVE NOT WAR toys are also unique as they come in two parts, a battery base called "The Power of Love" and a selection of separate "Heads" which are interchangeable, offering the consumer multiple toys in one. All previous generations of LOVE NOT WAR "Heads" and "Power of Love" bases will be compatible with the new NeoSilicone™ upgrades.
Co-founder and CEO Will Ranscombe explains: "We're really proud of what we've created with NeoSilicone™, and we're excited to be able to roll it out to our customers finally.
There has been a gap in the market for silicone sex toys that are safe to use with silicone lubes for quite some time so we're feeling thrilled to be bringing this solution to the table.
One of the many benefits of having your own manufacturing facilities is that we have had the freedom to experiment and do very focused R&D, which enabled us to make this breakthrough.
Will continues: "Our goal here is to improve the quality and reputation of the entire pleasure industry and we're keen to continue to offer that to our customers. We believe that with this new launch, we've done just that. We're excited for not only this massive leap for LOVE NOT WAR but also for the pleasure industry as a whole."
Speaking about the launch, President of Uberlube inc, the world's favourite luxury silicone lube brand, Stephen Magnusen, said, "It's not often we have industry advancements like these, but LOVE NOT WAR is proving to be an impressive innovator, able to fast realise ideas like total supply chain sustainability and complex solutions like this amazing silicone compatibility."
All LOVE NOT WAR products are manufactured in the brand's custom-built factory where the team works continuously to ensure the highest green practices are upheld at every level.
The entire range of NeoSilicone™ products is available now from www.l-n-w.com.