Everyone on the team here at Little Leaf is delighted to announce that our client Love Not War for having been nominated for Sustainability Champion at the Beacon Awards by Beauty Independent.
Love Not War is an eco-friendly and sustainable sex toy brand which prides itself on providing pleasure that doesn't cos the earth.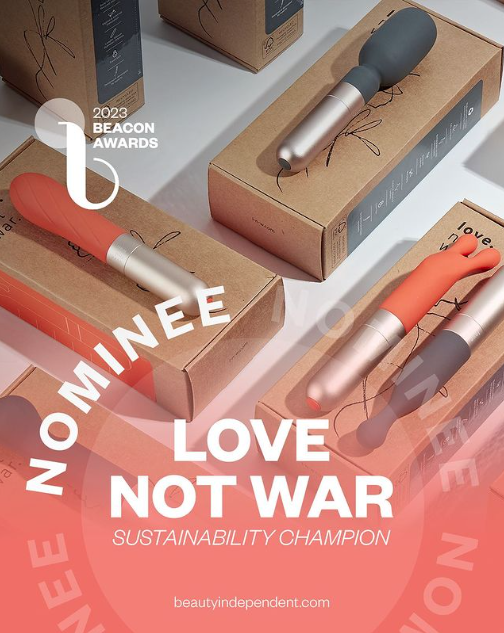 "At love. not war. we are committed to being good to you, your body and the earth. Having spent decades in the industry and witnessing first-hand how wasteful the sex toy world can be, we knew both you and the earth deserved better.
Our products are designed using as few materials as possible. We use only FDA grade-silicone and recycle and reuse leftover materials. We use recycled Aluminium and limit plastic and the small amount we do use is recycled within our factory.
All our packaging is a natural and eco-friendly brown cardboard, which needs less energy and water to make and it carries the FSC logo, showing you won't be harming the world's forests when you choose a Love. not. war. toy. Plus we use eco-friendly soy ink for the text on our packaging and eco-friendly glue too. " Learn more about Love Not War's sustainability policy here.
The premier resource for independent brands and beauty & wellness entrepreneurs, Beauty Independent's 2023 Beacon Awards shines a light on the most innovative brands, and we are proud that our client's excellent work has been recognised!
"At Little Leaf agency we strive to work with brands that not only provide excellent products but that have ethics that we can align ourselves with. Love Not War certainly is a market-leader when it comes to sustainability within the sexual wellness industry, and we are delighted that they have been nominated as a Sustainability Champion." – Kathryn Byberg, Founder of Little Leaf Agency.

Shop the range of highly celebrated and award-winning range at Love Not War via their shop here!